So you got a like-new iPhone, now what? Well, thanks for doing your part and saving the planet. Now we need to get your phone set up.
If you're coming from and iPhone, Apple gives you multiple ways to restore your information. (If you're coming from and Android, scroll all the way down)
Via iCloud:
iCloud is Apple's cloud-based software that securely stores your photos, videos, documents, music, apps, and more—and backs up all your info every night.
Every Apple ID is given 5GB of iCloud storage for free. This means most contacts, notes, and calendar events will be saved but if you want to backup your photos, videos, and apps - you'll have to pay for more storage.
How do I know how much storage I have?
You can check how much iCloud storage you have by going to:
Settings > Click on your profile (Name) > iCloud
From there you can decide if you need to buy more storage by clicking
| | | |
| --- | --- | --- |
| Storage Capacity | Which one is right for me? | Cost |
| 5GB | Good for storing all the basics, like contacts, calendars, and notes. | Free​ |
| 50GB | Recommended for storing your photos, videos, files, and apps, and backing up your device. | $0.99/month |
| 200GB | Good for families or one person with lots of photos and videos. | $2.99/month |
2TB Ideal for families to share $9.99/month
How can I make sure I have an iCloud backup?
iCloud backs up your iPhone daily, typically when your phone is plugged in and connected to wifi.
To make sure you have the most recent iCloud back up go to:
Settings > Click on your profile (Name) > iCloud > iCloud Backup (Make sure it is ON) then "backup now"
Then go ahead and turn on your like-new device and follow the prompts to setup and restore.
Via iTunes/ Finder
If you have a PC ​ or a ​ Mac running macOS Mojave 10.14 or below​
plug your iPhone into your computer and open iTunes​

If you have a Mac running macOS Catalina 10.15 or newer​ plug​
your iPhone into your computer and open Finder​

Back up your current device to the computer
Disconnect the old device and Connect like-new device
Click restore from "device name" then update and restore your like-new device
Via phone to phone transfer (Quick Start)
*Please note: In order for this to work, both devices need to be on IOS 12.4 or above and connected to​ Wifi and Bluetooth*
Turn on your new iPhone and place it near your current iPhone.
The Quick Start screen appears on your current iPhone and offers the option of using your Apple ID to set up your new iPhone.
Make sure its the Apple ID that you want to use, then tap Continue.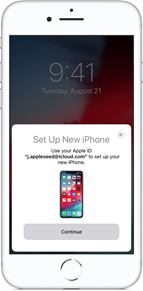 Look for this animation to appear:​ ​
Follow the prompts on the screen to personalize your iPhone
Tap "Transfer from iPhone" to begin transferring your data from your previous iPhone to your new iPhone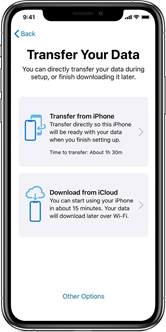 Moving from an Android Device
If you're coming from an Andriod don't worry, we got you!
The first thing you should do is download an app called ​Move To iOS​ from the Google Play Store on your Andriod Device.
Then turn on your iPhone and go through the setup process and create an Apple ID and password.
Once you create your Apple ID and password you will see this screen: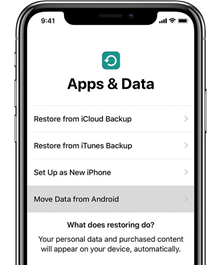 Click on "Move Data from Android"
You will then see a six-digit or ten-digit code.
Open the Move to iOS app​ on your Android device and ​ ​enter that code. Then wait for the Transfer Data screen to appear.
The Data Transfer screen will move up to about 50% then stop. (Don't worry that's normal!) Your iPhone will then shut down and restart. Once restarted, finish setting up your iPhone.
--
Note: If you find that your contacts are not all synced on iPhone; set up your Gmail email account on your iPhone and toggle the contacts button to green. That she transfer over any remaining contacts and you should be all set!