A SIM card — or subscriber identity/identification module — is a small memory card that contains unique information from your carrier's mobile network, and connects your phone to your carrier's mobile data in order to make calls, send messages, and access the Internet.
SIM cards are interchangeable and can be switched between compatible devices, allowing you to take advantage of multiple mobile data plans, especially when travelling abroad.
Choose a topic
---
What type of SIM card will my phone use?
All modern smartphones (since the iPhone 5) use a Nano-SIM. Some older devices use a Micro-SIM. And much older ones (like the original T-Mobile Sidekick or early flip phones) use a Mini-SIM.


If you're still unsure, find out the exact device model you're looking to buy and consult the official website of the manufacturer to see if your SIM card will work.
---
Which SIM card do I need?
100% chances are that you need a Nano-SIM. To make sure your SIM card/mobile plan is compatible with the phone you're shopping for, contact your carrier.
If you need to know which carrier(s) you can use with a particular device, knowing the model number of the phone will help. For example, if you're a Verizon customer and want a refurbished iPhone 12, it can help to get the A2172 specifically for optimal service.
Phones bought on Back Market do not come with a SIM card. If you need a new SIM card, you'll need to contact your carrier.
Find your carrier:




| | | | |
| --- | --- | --- | --- |
| AT&T | (800) 331-0500 | | |
| Boost Mobile | (833) 502-6678 | | |
| Cricket | (800) 274-2538 | | |
| Google Fi | (844) TALK-2-FI | | |
| H2O Wireless | (800) 643-4926 | | |
| Metro | (888) 8-METRO-8 | | |
| Mint | (800) 683-7392 | | |
| Spectrum | (877) 463-0677 | | |
| Straight Talk | (877) 430-2355 | | |
| T-Mobile | (800) 937-8997 | | |
| US Cellular | (888) 944-9400 | | |
| Verizon | (800) 922-0204 | | |
| Xfinity | (800) XFINITY | | |
---
eSIM
Manufacturers began adding an embedded-SIM (eSIM) to their mobile devices in order to allow users to get service without a physical SIM card. Not all US carriers support eSIM, so be sure to check your carrier to see if they have any eSIM plans.
Setting up an eSIM is pretty easy, and your phone should walk you through the steps when first booting it up, but if you're having any trouble, here's a quick walkthrough.
iPhone
Before you try to connect, check if your carrier supports eSIM. Once confirmed, there are a few ways to set it up:
Scanning the QR code

Your carrier should have a QR code if they support eSIM

Find that QR code through your carrier account, then scan it with the camera app on your device

Click

Cellular Plan Detected > Continue > Add Cellular Plan



Assigned Cellular Plan

For iOS 13 or newer, your carrier can assign the plan directly to you

Once assigned, you'll receive a notification that says '

Carrier Cellular Plan Ready to Be Installed' —

open it to continue

You may be asked to transfer your cellular plan if switching to eSIM

If you receive the notification, follow the steps on the screen and select the desired phone number

Once complete, make a call to ensure the setup was successful

If the call doesn't work, contact your carrier directly



Enter the information manually

Go to

Settings > Cellular/Mobile Data > Add Cellular Plan > Enter Details Manually
Android
While the Google Pixel 2 only supports eSIM for Google Fi, newer models, and some Samsung Galaxy devices support eSIM for other carriers. Before purchasing your device, make sure that your carrier supports eSIM.
Scanning the QR code

Depending on your carrier, you may also receive manual information instead of a QR code. If so, click the

Enter information manually

button and fill out those details
Go to

Settings > Network & Internet > Mobile Network > Add carrier

Scan your carrier's QR code

Click

Start

and wait for your phone to update

Once done, click

Complete
The eSIM isn't working
An eSIM is an embedded SIM card in the device, which means that it doesn't have a physical sim card you can remove — it's a 'software SIM card'. The information stored in the eSIM can be edited so if you decide to change carriers or plans, there shouldn't be a problem.
If your eSIM isn't working or if your device says 'No Service':
Make sure that your device is unlocked

If you just activated your eSIM, it can take up to 5 hours to convert a SIM card into an eSIM

Restart the phone, especially if you just activated the eSIM

Toggle Airplane Mode on and off
If nothing happens after troubleshooting, contact your carrier. They may need to set you up with a new eSIM.
If your eSIM is still showing "No Service," or your eSIM is still not working after you've gone through some basic troubleshooting using the above techniques, please reach out to Back Market Customer Care.
---
Dual SIM
If you have a business and a personal number, travel out of the country often, or have a separate data and voice plan, a dual SIM device is a great option. To see if the device is enabled for dual SIM, check the technical specifications of the product listing.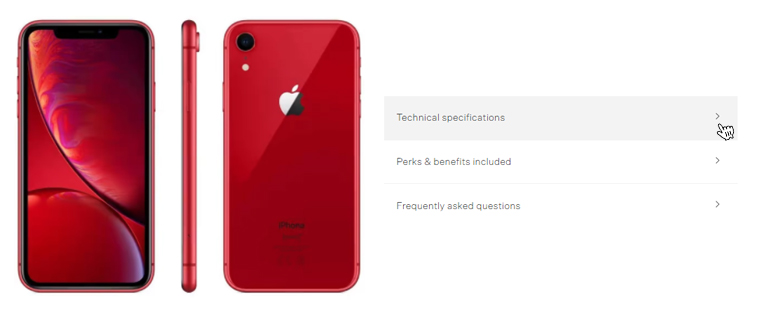 Once you receive the device, you'll need to insert both SIM cards and follow the on-screen steps to activate each plan.
iPhone
The following iPhone models can use dual physical SIM cards:
iPhone 13

iPhone 13 Pro

iPhone 13 Pro Max

iPhone 12

iPhone 12 Pro

iPhone 12 Pro Max

iPhone 11

iPhone 11 Pro

iPhone 11 Pro Max

iPhone XS Max

iPhone XR
Learn more about dual SIM and iPhone.
Android
For Android, here are the most popular models that can use dual physical SIM cards:
Samsung Galaxy S21

Google Pixel 6

Google Pixel 6 Pro

OnePlus 9

OnePlus 9 Pro

Asus Zenfone 8

Asus ROG Phone 2

Asus ROG Phone 5

Sony Xperia 1 III

Sony Xperia 5 III


Learn more about dual SIM and Google Pixel — and for Galaxy, click here.
---

Need more help?
Feel free to get in touch with us here.
---

Continue reading