Here are the most frequently asked questions on this topic:
Q. In which cases can I get a refund?
You're free to change your mind about your order for any reason and cancel or return it within the first 30 days of receiving it. See our Terms of Service for full details.
If the seller is unable to repair or replace your item, they'll automatically refund you.
Q. How can I check if I was refunded?
👉 For every refund, we send a notification email to the address linked to your Back Market account. It looks like this: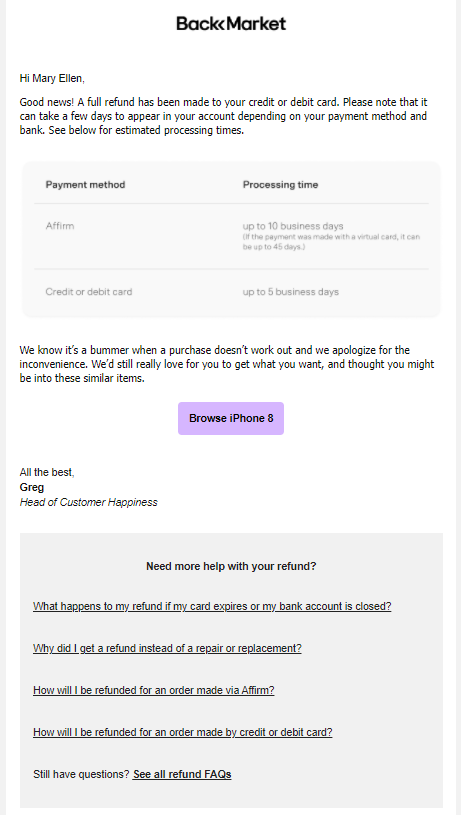 By logging in to your Back Market account
👉 Log in to your account and click on the "My orders" tab. If you have been fully refunded, you'll see a black header like the one below:
If you don't see this header and haven't received a notification email, this means you have not been fully refunded.
If you got a partial refund, don't worry: the header doesn't appear in that case.
Otherwise, please contact Back Market Customer Care by going to your "My orders" page and click on "Ask for help".
Q. How long does it take to be refunded?
Refund deadlines differ depending on the payment method used. Here are some general guidelines:
Payment method

Refund deadline

Credit & debit cards

5 business days

PayPal

5 business days

Affirm

10 business days

(up to 45 days if the payment was made with a virtual card)

Voucher or promo code used for all or part of your purchase

Please contact Back Market Customer Care and you'll be given a new code for the same amount.