Imagine this: you take out your phone to look up something online, but when you pull up your browser, you're left with an error message. Today, phones are only as good as their internet connection, so it's frustrating to have a phone that won't connect to the internet. This article should help with some basic troubleshooting that just might do the trick.
We'll go through techniques for both iPhone and Android devices, as well as issues related to Wi-Fi and data connectivity. To start, let's look at one common remedy to most connectivity issues — turning your phone off and on again. Restarting allows the programs on your phone to shut down and refresh, which could potentially fix minor software issues. A simple restart may not be the most sophisticated solution, but more often than not, it really does work!
With that said, and before we go a bit deeper into the ever-changing world of tech, please remember that the seller is always here for you. If you can't find what you're looking for in our FAQs, you can reach them by logging into your Back Market account > My Orders > Ask for help.
Select your device type to go directly to the correct section:
iPhone
Wi-Fi troubleshooting
The most common solution when having connectivity issues with your iPhone is to turn your Wi-Fi off and on again by going to your Settings > Wi-Fi. There you can toggle the switch to turn your connection off and on.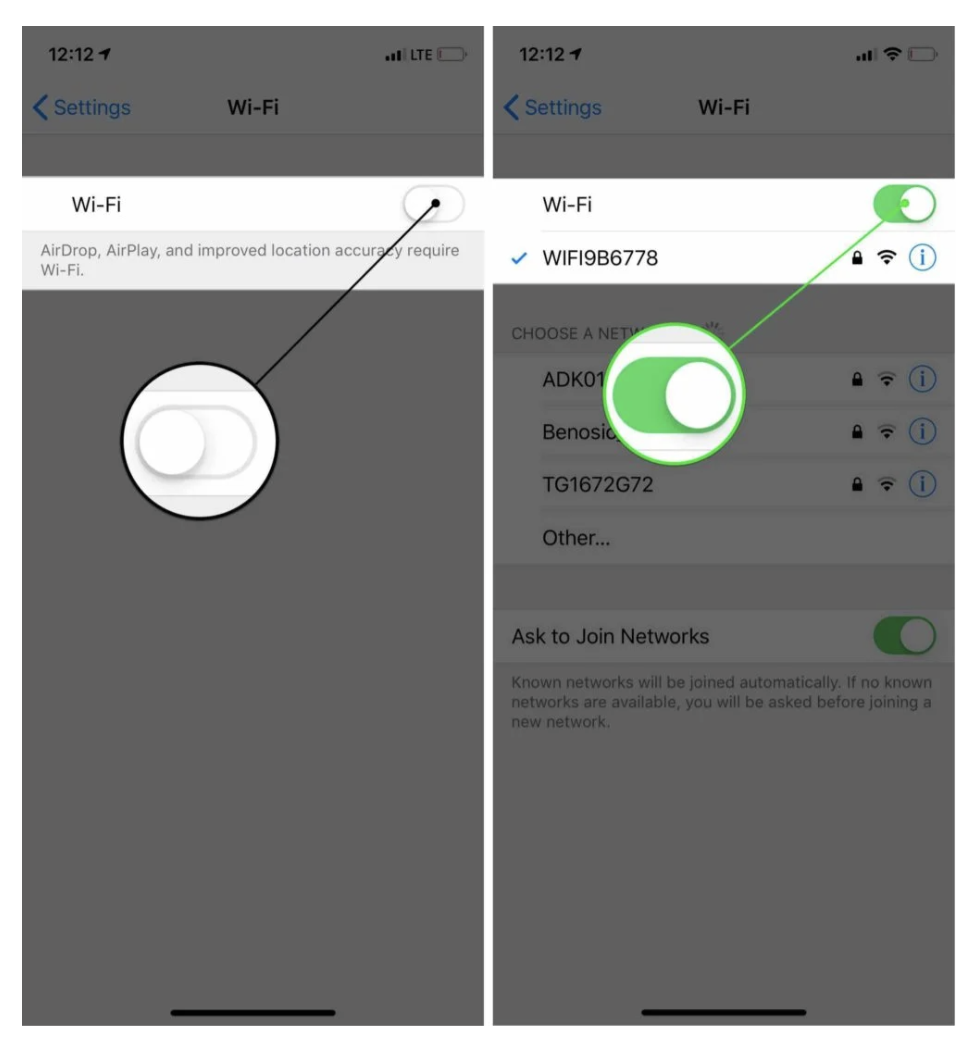 When you connect to a Wi-Fi network for the first time, your phone will save the information about that specific network and how to connect to that network. If you're trying to connect to the same Wi-Fi network, but your phone doesn't want to connect, you can opt for Forget This Network. To do so, just go to Settings > Wi-Fi > click on the information button (the "i" icon) > Forget This Network: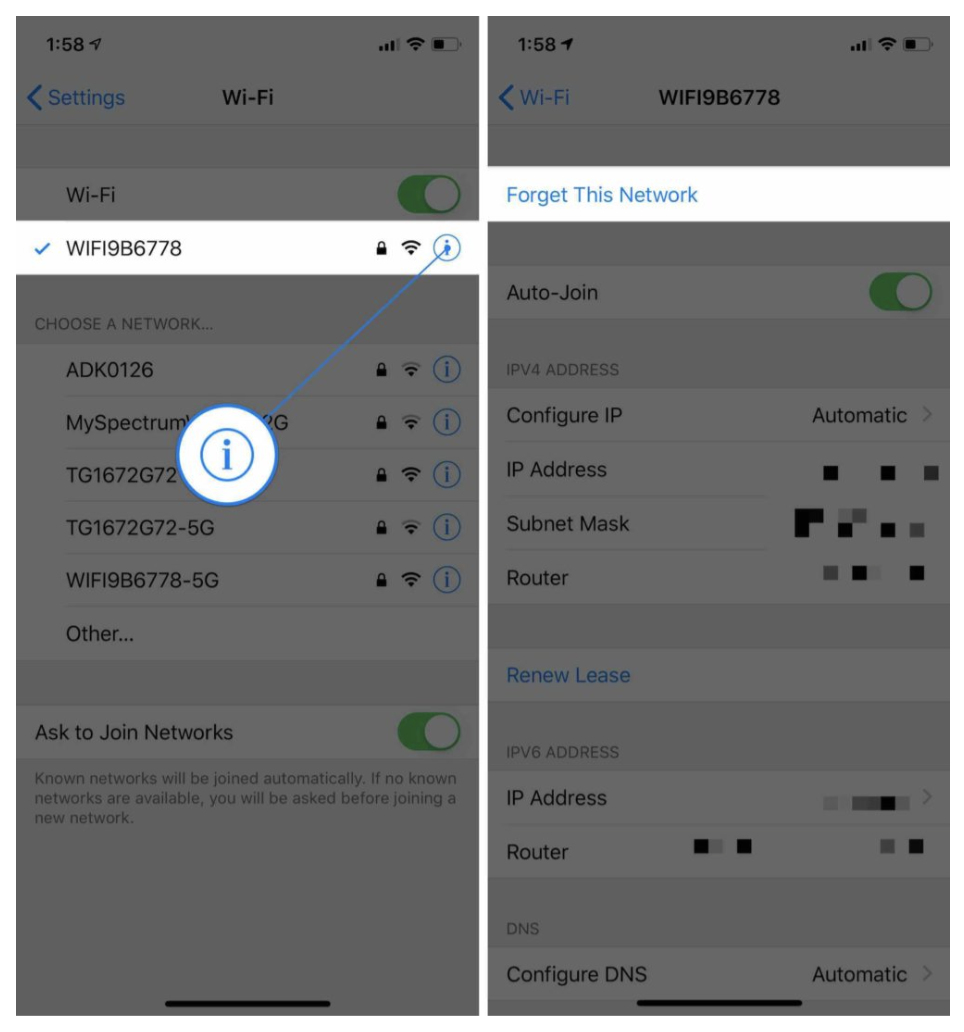 Just remember that when you do this, it's as if you're connecting to the Wi-Fi network again for the first time, so don't forget your password! Once you've done that, go ahead and reconnect to that Wi-Fi again.
For Wi-Fi connections, sometimes the trouble isn't necessarily your device but your router. If the tips above fail, try to restart your router by unplugging it or turning it off for a few seconds. Give it some time to reboot and reconnect!
Cellular data troubleshooting
As with Wi-Fi connectivity, one basic technique for cellular data troubleshooting is also to turn your data off, wait for a few seconds, and turn it on again. You can do this by going to Settings > Cellular > toggle the switch: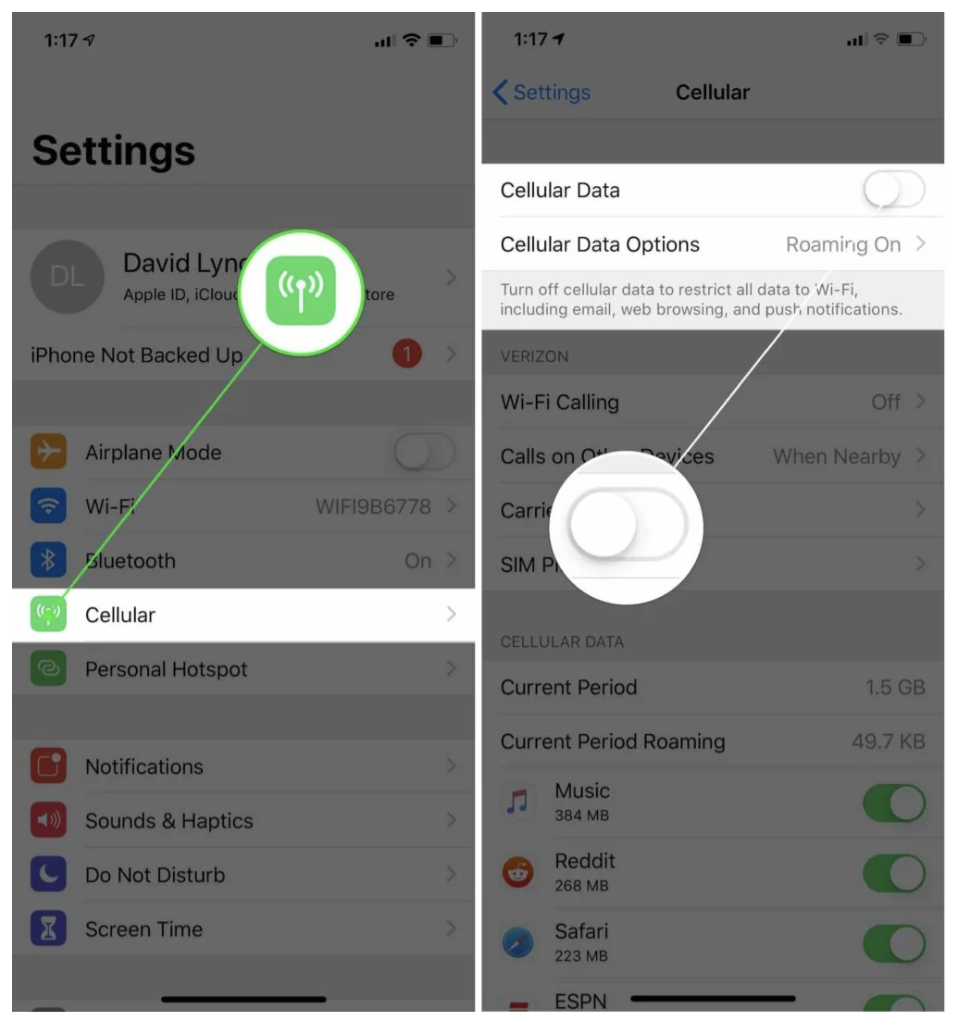 Another technique would be to eject and re-insert the SIM card on your phone. Since the SIM card is what connects your phone to the carrier's wireless network, ejecting and re-inserting it might help fix the connectivity issue.
Other tips
If all else fails, you might have to do a deeper reset.
Make sure your phone is updated to the latest iOS version by going to

Settings > General > Software Update

Software updates usually fix minor bugs and problems - some of which may be preventing you from connecting to the internet

If you've already updated to the latest iOS version, you can also try to reset your network settings by going to

Settings > General > Reset > Reset Network Settings

This option resets all your Wi-Fi, VPN, Bluetooth, and cellular settings, so you'll have to reconnect all your Bluetooth devices and enter all Wi-Fi passwords again
If you continue to experience connectivity issues, then it may be time to reach out to your Wi-Fi or carrier provider for cellular data issues — or your seller on Back Market.
Android
Wi-Fi troubleshooting
First things first, check that you're connected to a Wi-Fi network. Go to your Android's control center by swiping down from the top of your screen. Also, make sure that your Wi-Fi sensors are on. You can do this by clicking on the Settings app > Connections > — make sure the Wi-Fi is toggled on.
However, if your Wi-Fi has already been switched on and you still aren't connected to the internet, try to refresh your connection by forgetting the network. To "forget" a network, go to the Settings app > Connections > tap on the network you're trying to connect to > click on "Forget." When this is done, try to reconnect to the network.
Remember that sometimes, the problem might not be with your phone at all, and you might just need to reset your Wi-Fi router. Try turning the router off or unplugging it for a few seconds, then turn it back on and wait for it to reboot.
Mobile data troubleshooting
The other way your phone connects to the internet is through your carrier's data network. Here are some ways to troubleshoot data connectivity on your phone.
Check and make sure that your phone isn't on Airplane Mode — you can do this by checking your phone's control center and switch the "Airplane" icon to make sure it's turned off.
You could also try re-inserting your SIM card into your phone. This resets your phone's connection to the SIM card. Be sure to turn your phone off before removing your SIM card, then wait 30 seconds before turning your phone back on.
Another technique when it comes to mobile data issues on Android devices is to check if you're using the correct network connectivity — even phones with 4G capability may have limited capability on the 4G network. Changing your network mode might help your phone connect to the internet better. To do this, go to Settings > Mobile Data > Network Mode > choose a network mode. If your device has an auto mode, you can choose that so your phone automatically switches to an optimal network depending on your location.
Finally, it's always a good idea to check your mobile data usage. Different carriers have different plans with varying limits, so it's best to see if you've exceeded this amount. To check, go to Settings > Data Usage. If you've reached your cap, you can reach out to your carrier to increase your limit or settle any outstanding amount.
These common techniques should be able to help troubleshoot basic data connectivity issues, but if they don't help, it's best to speak directly with your carrier or contact the Back Market seller.
Related articles
How do I ask for help with my order?
How do I contact the seller(s) of my order?