Assess your item to get a price offer from an expert refurbisher
To start, click on "Trade-in" in the navigation menu.





Select the category of the item you'd like to trade in (smartphones, tablets, consoles, headphones and earphones).


Answer the questions about your item's model and condition (brand, model, screen condition, locked or unlocked, etc.)


Need more details about how to accurately assess your item's condition?

Learn more

Once you've completed the assessment, you'll get a price offer from an expert refurbisher.

Prices are based on the model and condition of your item
After accepting a price offer
You always have the option to accept or reject a price offer. If you decide the price is right, we'll ask for banking details and the last 4 digits of your Social Security number so that we're able to securely transfer payment into your bank account. To provide your information:
Enter your personal information such as name, date of birth, current address, and phone number.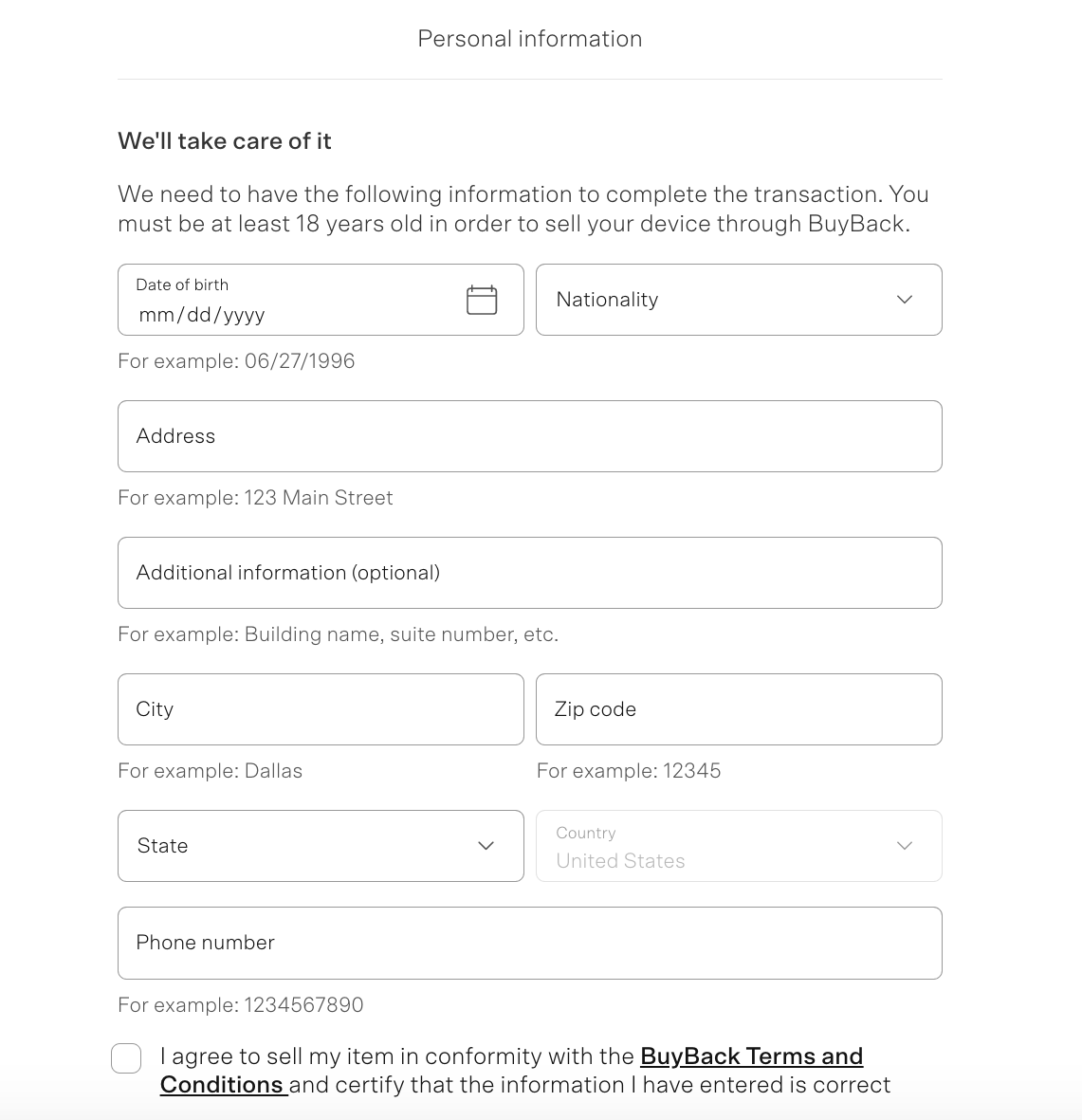 Enter your bank account and routing numbers, account holder's name, and the last 4 digits of your Social Security number on your going to "My BuyBack offers" on your Back Market account, then click on "Track my sold item(s)".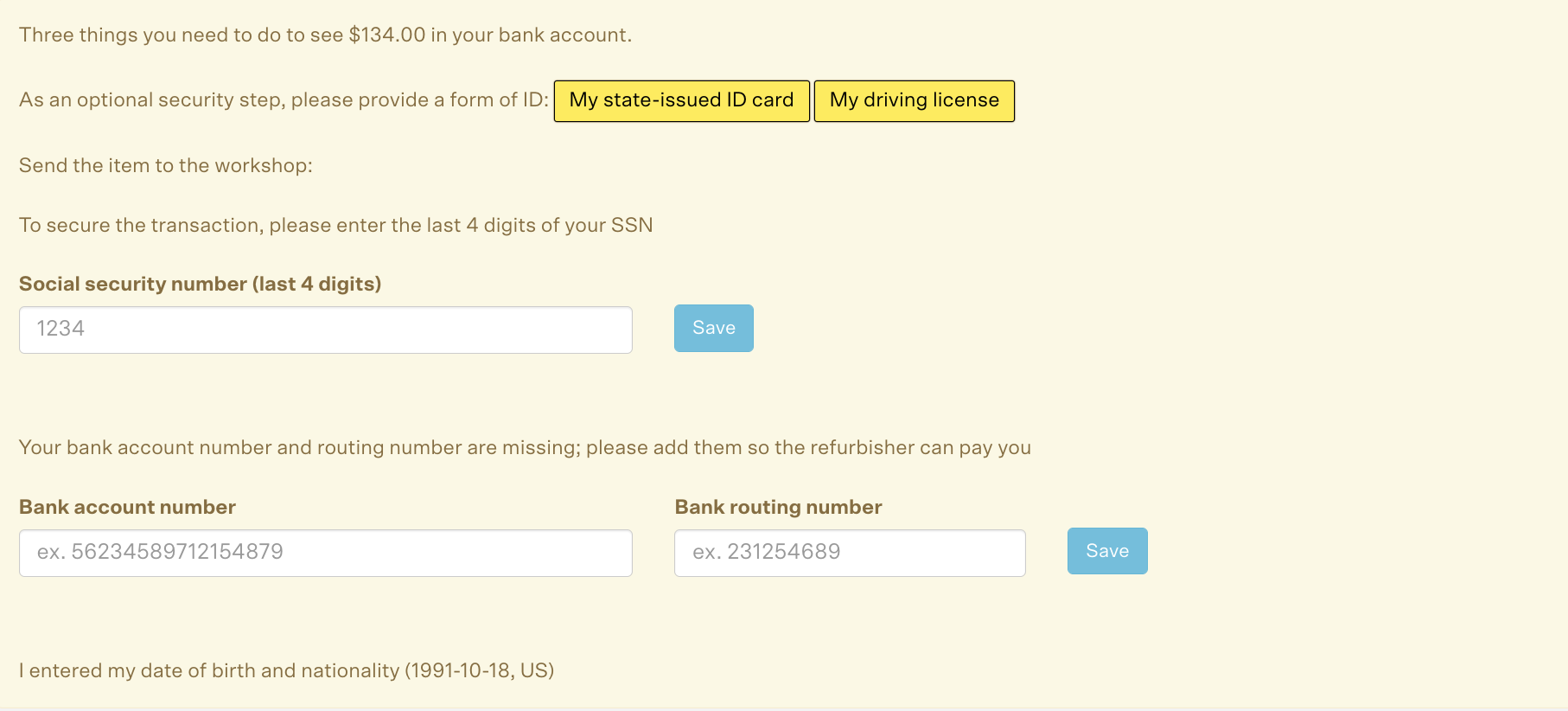 Prepare your item
After completing your banking details, you'll receive a prepaid shipping label in your email. Use this shipping label when sending your item to the refurbisher. Keep in mind that you must ship your item within 21 days of receiving the price offer to receive payment.
Back up and delete any important data on your device before shipping it.

Don't forget to disconnect your

iCloud

or

Google

account from your device (phone, tablet, audio), even if it's no longer working. Items that are connected to an account are not accepted.

Pack your item in a box and give it some TLC: make sure it's protected and cushioned so that it stays secure and safe while in transit. You can recycle newspapers, magazines, or other materials to cushion the item.
Send your item within 21 days
After preparing your item, you can ship your packaged item in any of the following ways:
Drop off the package at your local post office

Drop off the package at a blue USPS collection box

Schedule a pickup from

USPS
If you decide to drop off your package, be sure that it's scanned by an employee. Find your nearest drop-off location
If scheduling a pickup, check the USPS website to see if your location is eligible for pickup and then select a time and date. The prepaid shipping label provided also includes a tracking number, and your package will be covered if it gets lost or damaged.
Get paid
To receive payment, check that you provided your bank account number, account holder's name, and routing number. If you skipped this during the assessment of your item, no worries. You can complete this information by logging in to your Back Market account and clicking on "My BuyBack sales".

Once the refurbisher receives your item, they'll check and test it to see if it matches the assessment. If everything checks out, the refurbisher has 2 business days after receiving your item to pay. You'll see the money in your bank account within 6 business days.
If the item doesn't match the assessment, the refurbisher will propose a counteroffer that accurately reflects the value of the item, which you can accept or reject. If you reject the offer, you have the option to have your item shipped back to you or have it recycled properly by the refurbisher.
Easy money, right? Start trading in your old tech