Do you want to learn how to get the most out of your device? Look no further! 
Reminder: If your device's battery health is above 85% within one month of purchase, or 80% within the first 6 months, the state of its battery complies with our Quality Charter. This applies to smartphones purchased in all aesthetic conditions.
After six months of purchase, battery health issues are not covered by the warranty, as it's normal for batteries to degrade when used. Please contact Back Market Customer Care if your device's battery is below the percentages above when you receive it.
Good to know
If you purchased a smartphone with a brand-new battery, your device must have a charging capacity of 100% when you receive it. If the battery capacity falls below 90% after the first 30 days of use and during the first 12 months of use, you are entitled to a repair.
Keep in mind that a device purchased in Excellent condition doesn't automatically mean a new battery has been installed on your smartphone. But, rest assured! We guarantee it's in optimal condition.
Useful tips
1/4 - Check your battery health first
Go to Settings > Battery > Battery Health
Check the percentage (%) next to "Maximum Battery Capacity"
If the capacity is 80% or above your battery is in good health
According to Apple, a normal battery is designed to retain up to 80% of its capacity at 500 complete charge cycles if operated in normal conditions. At Back Market, we work to make sure that you receive a functional device, which is why our Quality Charter follows these recommendations.

Keep in mind that when your battery is replaced by someone outside of Apple, your phone will show a notification that reads "Unknown part" or "Warning message." Don't panic — this is completely normal and doesn't affect your device's performance.
2/4 - Check your battery usage
To determine your device's battery usage, go to Settings > Battery
Insights and suggestions
There may be some insights regarding your usage patterns that consume the battery life of your iPhone or iPad. Your device may also provide suggestions to help you lower your energy consumption. If available, select the suggestion and you will be automatically brought to the indicated setting.
Last Charged
Shows you the battery level of the last time your device was charged and disconnected.
Graphs
Battery Level graph (Last 24 Hours)
Shows you the periods of time when your device was in Low Power Mode or running out of battery, your battery level, and the charging intervals.
Battery Usage graph (Last 10 Days)
Shows you the battery percentage you used in the last 10 days.
Displays your activity over time and when the screen was either on or off.
Activity graph
Screen On and Screen Off:

Displays your total activity for the chosen period and when your device's screen was on and off

If you are in the Last 10 Days tab, it will show the average per day
Activity and Battery Usage by app.
Here you can manage your battery life according to the proportion of battery used by each app. You won't be able to see this when your device is charging.
Background Activity.Here you can manage your battery life according to the proportion of battery used by each app. You won't be able to see this when your device is charging.
To optimize your battery life, restrict apps from refreshing in the background. 

To do so head to Settings > General > Background App Refresh
Select Wi-Fi > Wi-Fi & Cellular Data > Off
Location and Background Location.
This section refers to apps that use your location.
Turn off Location Services for specific apps you don't need it on by going to Settings > Privacy > Location Services

Once there, you can see a list of apps that use your location
Home & Lock Screen. This happens when the Home or Lock screen displays on your device. Most of the time is due to notifications or pressing the Home button.
If any app pushes many notifications, you can turn them off for the app by clicking on Settings, and then Notifications. Select it and put Allow Notifications off.
No Cell Coverage/Low Signal. When you are located in an area with low coverage, your device looks for better signal, which reduces your battery life. You can optimize it by turning on Airplane mode, in the Control Center (plane icon), or in your Settings.
3/4 - Make the most out of your device
Good to know: "Battery Life" refers to how long your device runs before it needs to be recharged. "Battery Lifespan" is the amount of time your battery can last until it needs to be replaced. Below we've compiled a list of ways you can make the most out of your device!
Update your device.
You should always use the latest iOS version to maximize your device's performance:
Always check for updates: go to Settings > General > Software Update
If there is one available, you can update it wirelessly:

Plug your phone into a trusty power source or simply connect it to your computer and use the latest version of iTunes to perform the update
Change the settings.
The best way to optimize your device's performance is to adjust your screen brightness and use WiFi when you can. 
Keep the brightness low via the Control Center — use your finger to lower the white section to the bottom of the rectangle
Enable Auto-Brightness:
Go to Settings > Accessibility > Display & Text Size > Auto-Brightness > On
WiFi connections always use less battery than normal cellular data and so we recommend using WiFi whenever possible!
You can also adjust your Mail setting to determine how often the app loads new emails.
Go to Settings > Mail > Account > Fetch new data

Choose between various settings to Fetch New Data:

Automatically 

Manually

Hourly 

Every 30 Minutes

Every 15 Minutes.
We also recommend turning off Siri suggestions. Siri automatically runs in the background in order to send you daily recommendations. This will drain your battery more quickly.
Go to Settings > Siri & Search > Suggestions From Apple

Here you can disable notifications, sharing, and listening suggestions 
Turn on Low Power Mode.
Low Power Mode is a very useful feature that makes your battery life last longer. Low Power Mode helps maximize your device's performance by reducing brightness and minimizing animations among other things. Once your device is charged again, Low Power Mode will automatically turn off.
When your battery level reaches 20% or 10% a pop-up message will appear to turn it on. You can also enable this in Settings.
Go to Settings > Battery 
Toggle the white button next to "Low Power Mode" so that it turns green
4/4 - The best routine for your battery
There are several best practices that can extend your device's battery life and help the charge last longer. Below are even more suggestions to help improve your battery's performance so that you get the most out of your device!
Keep it cool 
Avoid situations that can cause your device to overheat — this is particularly important when it's fully charged. Your battery will run out a lot faster when it's hot out, even if you aren't using it!
It's very important not to expose your phone to temperatures above 35°C (95°F) as this can permanently damage the battery. When storing your device when not in use, we recommend that you keep it in a place with temperatures between -20°C (-4°F) to 45°C (113°F).
You should also stay away from cases and accessories that may cause your device to overheat.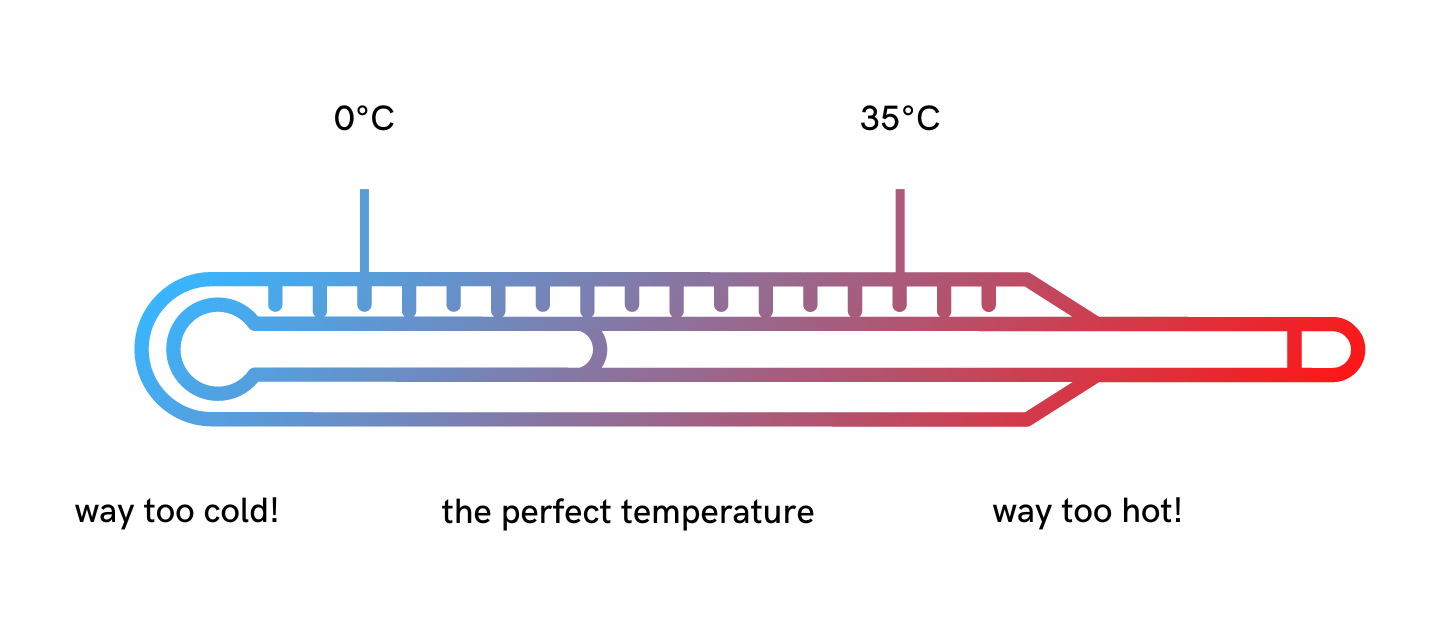 Optimize your settings to save your battery
You can adjust the following settings on most devices:
Enable the automatic screen-lock feature, which turns off your screen when it's not in use

Turn off sounds or vibrations, such as the keyboard

Leave your apps open — reopening them uses a lot of battery

Reduce the usage of apps that consume a lot of battery

Turn off Bluetooth

Delete any apps you don't use

Place your device facing down while you aren't using it — this will stop the display from lighting up when you receive a notification

Activate Dark Mode
Charge for what you need
Contrary to popular belief, phone batteries don't need to be charged to 100%:
Ideally, your phone should always be charged between 20% and 80%

Don't charge your phone to 100% unless absolutely necessary

Don't allow your battery to drain to 0% and turn off

Don't leave your device without a charge for too long

Prioritize small charges — 20% at a time multiple times a day is best

Consistently update your apps